A private jet, business jet, or bizjet is a jet aircraft designed for transporting small groups of people. Business jets may be adapted for other roles, such as the evacuation of casualties or express parcel deliveries, and some are used by public bodies, government officials or the armed forces.
Most production business jets use two jet engines as a compromise between the operating economy of fewer engines and the ability to safely continue flight after an engine failure. Exceptions include the early Lockheed Jetstar with four engines; the Dassault Falcon 50 and derivatives with three; and the Cirrus Vision SF50 with one, a configuration also used in several similar very light jet design concepts. Most business jets use podded engines mounted on the rear fuselage with a cruciform tail or T-tail to reduce interference drag and increase exhaust clearance.
Practical limits on the ground clearance of these smaller aircraft have prompted designers to avoid the common jetliner configuration of a low wing with underslung podded engines. The sole business jet to use this layout, the early McDonnell 119, was rejected by the USAF due to foreign object damage concerns, leading to the failure of the program. The recent HondaJet uses wing-mounted engines but mitigates this problem with its unique over-the-wing engine pods.
As with jetliners, swept wings are often used to increase cruise speed, but straight wings are also commonplace; notably, Cessna deliberately prioritized docile low-speed handling in choosing straight wings for many models in its popular Citation family, envisioning that owners transitioning from slower piston engined or turboprop aircraft would want to maintain the ability to use relatively short runways, and that lower approach speeds would ease single-pilot operations, particularly by relatively inexperienced owner-pilots.
Rolls-Royce plc powers over 3,000 business jets, 42% of the fleet: all the Gulfstreams and Bombardier Globals, the Cessna Citation X and Embraer Legacy 600, early Hawkers, and many small jets with the Williams-Rolls FJ44.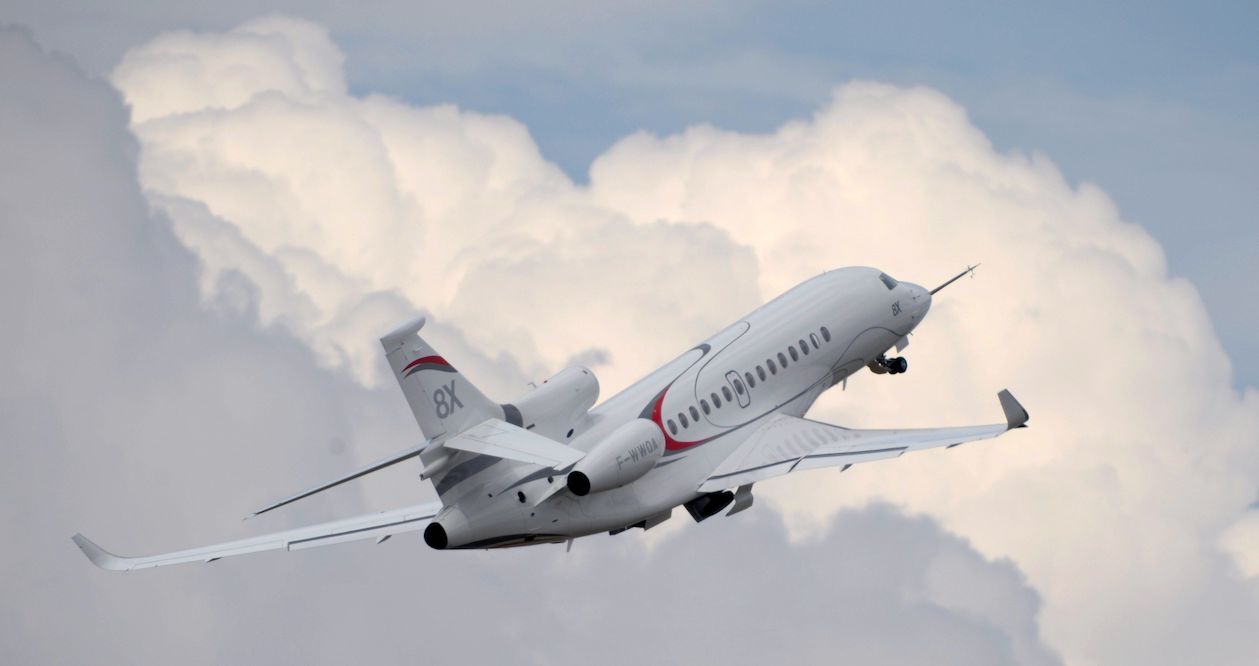 和航空公司的客机出售机票给个别乘客不同,商务喷气式飞机若为私人所有,通常称为私人喷气式飞机;若为企业所有,则称为公司喷气式飞机。除了上述的营运形式外,也有专门从事商务喷气式飞机出租服务的专门业者;向这些公司租用商务喷气式飞机,则又可称为包机(Charter)。
对于超级富豪而言,专用的商务喷气式飞机可能又无法满足其要求,因此将大型客机作内部改装,成为私人喷气式飞机,就是最佳选择。如空中客车的新一代大型客机A380,已经有不愿披露身份中东地区富豪,以1.5亿英磅购机,再花7千5百万英磅进行内部装修。
对于一般富人及企业,多选择使用商务喷气式飞机公司专门出厂的商务喷气式飞机,如庞巴迪宇航的环球系列、挑战者系列,湾流航太的G系列,达索航空的猎鹰系列,安博威的领航系列、飞鸿系列,德事隆航空的赛斯纳奖状系列等等。
Depending on size, range, model and features, a private jet can set you back anywhere from two million dollars to over 100 million dollars. Much like used cars, private jets are subject to serious depreciation. If you're looking for a bargain second-hand jets come much cheaper first on your expense list is the purchase price. A new gulfstream G450, for example, can cost anywhere between 38 and 43 million dollars brand new depending on the upgrades, you add at the time of purchase on the other hand a pre-owned model will typically cost you anywhere in the 14 million to 35 million dollar range. A significant variance depending on the flight hours upgrades and features that are on the aircraft. As mentioned earlier the cost can go as high as your pockets can allow you.
Let's outline ownership starting small. In recent decades the VLJ (very light jet) became an entry-level category of the private jet marketplace, made possible with small and economical engines, such as the william FJ series VLJs are not as popular as they were predicted to be this is greatly due to the slower speeds and limited load capacity. The cirrus vision SF-50, the cheapest of the VLJs as a single williams FJ33 jet engine cruises at 300 knots and can seat seven including the cockpit seats in tight quarters. The entry price is competitive around two million dollars brand new. At the other end of the spectrum larger more powerful private jets can reach into the hundreds of millions. For example, the super long range BBJ 777x can seat up to 75 guests will set you back upwards of 400 million dollars. While the initial purchase fee may seem steep, many owners find that the real cost of owning a private jet comes later on. Unlike when chartering a jet owning one, leaves you responsible for the ongoing expenses associated with regularly flying a jet customization tops the priority list.
You see, when you have the kind of money that allows you to indulge in such expensive spending, one tends to develop a unique appetite that of rarity. With that most jet owners likely making their flying paradises match their taste. When buying a new jet as the owner, you'll be able to design the interiors as you please, while a jet can be left as configured many buyers will choose to redesign, be it just adding a personal touch to the decor or completely altering the layout. Of course customization will come at a cost with some private jet owners, spending upwards of 100 million dollars on bespoke plane interiors like prince Al-Waleed or former POTUS Donald Trump. The private jet crew is another area a willing owner will have to flex their financial muscles, advanced as they can be business jets can't fly themselves.
A private jet owner will need to hire an onboard crew including a pilot, if they are not qualified to fly themselves. The cost will vary depending on the crew and number of flying hours. But jet owners should anticipate paying anything from two hundred fifty thousand dollars per year. If one pilot is paid a two hundred fifty thousand dollar salary, for example, you'll need to pay that plus benefits and depending on the size of the plane, and how often you fly it you'll likely need two or three pilots, that would bring the total annual cost of the pilots alone to over 750 thousand dollars. But it may be difficult even to find a pilot, many pilots are reportedly switching to flying commercial airlines, where they can get better pay and more regular working hours.
A professional pilot is a necessary extension to any aircraft, but equally important is the private jet flight attendant to enhance the safe environment during a flight. While not required under FAA regulation, a private jet flight attendant more commonly referred to as cabin attendant is an essential component of a flight department's operations. Cabin attendants are the anticipatory adaptable elegant detail-oriented, and multi-talented safety, and service professionals for a private jet. Behind the scenes cabin attendants work tirelessly to create an experience, that owners and charter guests rave over. However it is the extensive safety training required for cabin attendants to compete, that makes the ultimate difference for clients and aircraft owners.
For ultra luxury air travel world-class, cabin attendants go through educational courses that include water evacuations and emergency drills, CPR and first AiD certifications, as well as advanced culinary and etiquette preparation, their salaries range anywhere from forty to fifty thousand dollars a year. The maintenance cost of a jet is another financial draining area. Regardless of where and how frequently you intend to fly, jet owners are faced with substantial ongoing expenses, beginning with routine maintenance and on-the-ground downtime. Regularly flying through the sky at over 500 miles an hour, will inevitably leave your private jet open to some wear and tear.
General maintenance should be performed regularly. While unexpected repairs should also be budgeted for. The cost will vary depending on the model as well as the nature of the repair. But even seemingly small issues such as a cracked window can cost tens of thousands of dollars. A blown tire can cost two thousand to three thousand dollars to replace, then there's insurance. Let's figure hull insurance at thirty four thousand five hundred twenty dollars, and a single limited liability at twelve thousand five hundred dollars for a rounded total of forty seven thousand dollars. However it's important to note that insurance can increase based on several factors not limited to average flight hours, age of the aircraft and more and as the jets get bigger and carry a higher payload. You can almost count on a larger premium.
Private jet insurance policies include liability coverage which covers your legal liability in the event that property damage or bodily injury occurs as a result of the operation of your jet aircraft. Then comes the fuel consumption fuel is one of the biggest expenditures when it comes to the cost of owning a private jet. With jet fuel currently priced at around two dollars and twenty five cents to five dollars and fifty cents per gallon, although fuel consumption will vary depending on onboard weight and flying speed.
Larger planes such as the gulfstream G700 can burn through 380 gallons an hour. Putting your minimum hourly fuel costs at over 850 bucks. This means that if you're flying for 300 hours a year, you should expect to pay upwards of 256 thousand dollars in jet fuel. Finally there are the hangar fees airplanes are generally one of the most expensive assets, an individual owned and are also somewhat of an oddity, well very strong and durable in flight they are downright fragile on the ground. A private aircraft that careens through known icing and turbulence in flight, without any issue can be completely destroyed on the ground due to gusting wind. Rain and ultraviolet rays take a toll on aircraft causing serious damage to them if left in the elements. But what are the options available to hanger an aircraft and what are the actual costs of an airplane hangar. When you're paying this much for the privilege of owning a jet, it needs to be stored carefully when not in use. Unless you have the space in your garage, you'll have to rent or buy a space in an airport hangar. Depending on the hangar location, renting a private hangar will be around three thousand dollars per month.
As you can see there are several options for those fortunate enough to purchase a private aircraft. Whether you purchase new or used is clearly a matter of personal preference and budgetary constraints. Considering all the extra fees on top of the initial purchase it costs an impressive amount to own a private jet with yearly maintenance and operation, costs heading into the hundreds of thousands. To make the price worth it a jet owner should anticipate flying at least 100 hours a year over the course of four to five years. If you don't plan to fly this frequently, fractional ownership in which you buy shares of an aircraft is likely to be a more cost effective way to enjoy private aviation.